Orlando
Training to be a commercial airline pilot takes many, many years and long hours. When you begin as a pilot, you often get the red-eye shifts and the flights around the holidays. However, you can accelerate your commercial pilot career by taking aviation courses that are specialized, such as those offered by Alliance Aviation in Orlando.
Our aviation courses include A320, B737, and ATP-CTP certification course. Once you complete these courses, you will be an expert in these aircraft, and you will immediately be more valuable to your employer.
One can't argue against the perks of being a commercial airline pilot. You can fly virtually anywhere in the world for free. You often get long stretches of time off. And you get to do what you love as a career — fly.
Jet Blue University flight training facility has everything you need to earn a type rating in the U.S., or even to take flight on a career as a commercial airline pilot. Equipped with the latest training devices, including technology that is used by regional and national commercial airlines, as well as close proximity to Orlando International airport, our flight training facility is perfect for domestic or international pilots who are looking to earn their type rating certifications.
Alliance Aviation in Orlando loves to help people further advance their aviation careers, promote airline safety through further training, and help people do what they love to do most. Enroll at Alliance Aviation, or contact our Orlando aviation facility today to learn more.
---
4 A320 FFS Level D with latest visual updates
Latest Training Devices
4 A320 FFS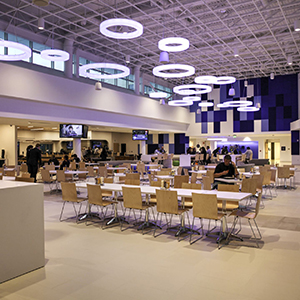 State of the art cafeteria and breaking room
State of the art facility
Located At Orlando International Airport
JetBlue University accommodates 200 permanent daytime staff and up to 300 students and provides training facilities for all Jet Blue pilots the university includes classroom space, an auditorium, cafeteria, office space, a specialized, heated outdoor emergency slide/raft training pool, and a 36-foot high simulator hall.
Orlando, a city in central Florida, is home to more than a dozen theme parks. Chief among its claims to fame is Walt Disney World, comprised of parks like the Magic Kingdom and Epcot, as well as water parks. Another major destination, Universal Orlando, offers Universal Studios and Islands of Adventure, with the Wizarding World of Harry Potter straddling both.
Visit today and take flight on a new career!
---